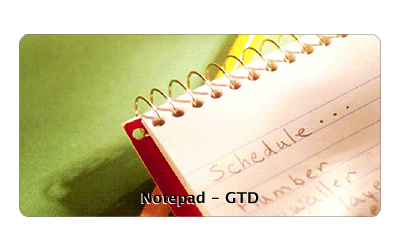 For as long as I can remember I have struggled with trying to remember things. Be it work related or personal, it's always been a struggle for me to remember different things I need to do through out the course of a day. It's an exosting and stressful task. It does not seem like it but just trying to remember something waists time and stresses you out. Imagine if you didn't ever have to remember anything. You mind would be free to think freely and wonder around.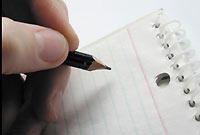 I have recently been able to accomplish this great stress free and mantel freedom. For several months now I have been keeping a notepad with me at all times. I keep it in my back pocket along with a pen in my front pocket. I do this for several resins. One being that I have a really bad memory. I have learned that when I need to remember something for a later time I can just write it down and address it when I can. This practice has already become a habit for me.
Sine doing this you quickly release that you don't remember things. Even more so when you have a method like this that remembers things for you. Trying to remember things stress you out and you don't enjoy what is going on around you as much. It's all part of the whole Getting Things Done methodology. So to help with that I now carry a notepad and pen with me everywhere I go.
"If you wish to forget anything on the spot, make a note that this thing is to be remembered." – Edgar Allan Poe
On this notepad I keep two basic lists. an "ACTION" list for things I need to do and a "SHOPPING LIST" for things I need to get at the store. The shopping list came to be because I would always forget my shopping list on the fridge. So to solve that little problem I now carry it with me at all times. The action list if for anything I need to do or be reminded of. Whenever I have a few free moments I will try and accomplish as much as I can on my actions list. Things I can't accomplished in the time I have available for them I end up transferring to another Action list I have located on Google Notebook to be completed at a later time.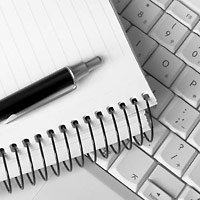 I know this sounds like a simple solution to a big problem. I mean who doesn't experience the pain of trying to remember something all day long, only to forget it when they really need to remember it. For me caring a notepad is the great solution I have been able to find. I love the idea of having a PDA to do this. I am a geek after all. It will be very tempting if the roomers of the return of the Apple Newton turn out to be true. But unlike a notepad, PDA's run out of batteries or you lose the stylist pen and it's always when you need them the most. This is why I am not a PDA user. (Currently)
So to finish my thought, at least once a day I go though my action items. If anything on the list takes 2 minutes or less I just do them. If it takes longer and I don't have time to address it right then and there I then copy over the action item to Google Notebook.
Just form my experience I can tell you that I'm able to just come home from work and not worry about anything. It's all written down and in a place I can execute it when I have time. Nothing to remember, and nothing to worry about forgetting.
Another thing I want to bring up are pens. I never could find the right pen. I think I struggled with this more then anything. I enjoy writing. Even if it's just a quick note. Because of a friends suggestion I discovered the "Uni-ball Vision ELITE" pen. I find it writes very well and I have not been swayed by any other pen for months now. I keep this pen in my front pocket at all times. So I always have something to write on and something to write with.