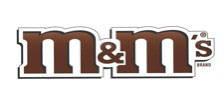 Recently, my fiancée Hannah had her M&M art written about on CandyAddict.com.
Mendelsohn, a 21-year-old medical assistant, separates M&Ms by color and arranges them in intricate patterns on any flat surface she can find. The result is a surface completely covered with M&Ms, no space between them. Mendelsohn arranges the colors in bright geometric patterns. She said this hobby first took root when she developed a love for chocolate.
I think this is pretty exiting. I wanted to share the link with everyone. So Check out her art and the article written about her "Alaska coffee table serves as canvas for M&M art" over at Candy Addict.