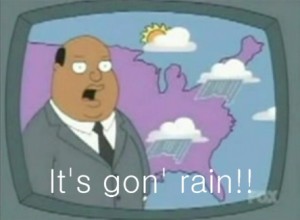 Has Juneau Alaska became the rain capital of the world? Ever since Hannah and I got back from our vacatin in Washington it has just been either overcast, or rainy. It was really starting to get to me for a minute, but then I just started taking some viteman D and all is better.
I really am starting to miss the sun though. Last summer was kind of like this too. The first summer we spent here was great, but that was 3 years ago. Seattle Washington really has been unfairly called the rainiest place on earth thanks to a little movie called "Sleepless In Seattle". I have lived in Washington for several years and it's true it is rainy. But Seattle has nothing on Juneau for rain right now.
I do hope this is not a trend. Maybe it can be blamed on El Niño, or the butterfly affect.