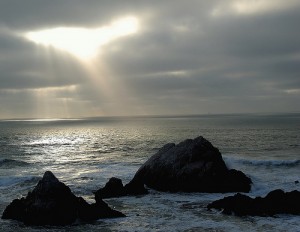 When I first moved to Alaska I kept hearing the term "Sucker Hole" all around me but had no idea what it meant. I finally asked one of the guys I worked with and he told me that a sucker hole is when the clouds over head brake apart enough to let some light through and all the suckers in town follow the light around for as long as it lasts.
Wikipedia describes a sucker hole as:
A colloquial term referring to a short spate of good weather that "suckers" sailors into leaving port just in time for a storm to resume at full force.
I thought i might share this with everyone since the weather here has been so bad and as I looked out of my office windows I was treated to a bref shower of sunlight.