I normally go home on my lunch brake. I don't live to far from my office and eating at home is cheaper then going out anyway. Plus, with our run of bad weather people just have not been wanting to go out for lunch as much anyway. So I go home and make myself something to eat and walk the dog and come back to the office.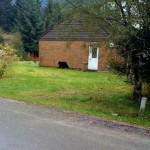 Well today was a little bit different. I took our dog out for a walk pretty much like normal and we did not make it past my mail box very far when I noticed and brown nose black bear staring at me from the next door neighbors yard. I could tell it was a younger bear but still he was giving me a pretty good stair down. I wanted to run but something inside me just said to keep the dog close and don't move.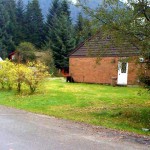 Eventually the bear lost interest and started walking through the neighbors yard and only quickened it's pace when my dog started barking at it. I pulled out my iPhone and was able to snap a couple of pictures before he hopped a fence across the street and was out of sight.
It was quite a thrill and a shock for me. I have seen bears in Alaska, but never that close. It made me think it's mother must be around somewere. So the dog and I quickly made our way back to the house.