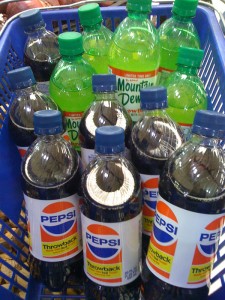 This last weekend I was thrilled to death to  find Pepsi Throwback products in my local stores here in Juneau Alaska. Pepsi Throwback and Mt. Dew Throwback are Sodas made from the original formula Pepsi used back in the 60's and 70's (That they never should have stopped fucking making) containing real sugar. No high fructose corn syrup at all.
I have been trying to stay away from soda's using high fructose corn syrup and I have accomplished this by drinking products like Jones Soda, and Thomas Kemper soda. So last weekend I was thrilled to find Pepsi Throwback in my local store giving me another option of something to drink.
I knew Pepsi Co. had released Throwback earlier last year. I also know it can take a while for the stores in Juneau to get some of the products that have been available in the lower 48 states for a while. So I was glad to finally see this.
After doing some quick Google searches I learned that the Throwback sodas I am seeing in my local stores are actually the second run that Pepsi has done for this drink. Giving it an updated (retro) logo. The sad news from what I am reading is that Throwback is only going to be available for 8 weeks and then Pepsi will stop making it again. From the other websites I have been reading I am left feeling that the reason that Pepsi Throwback came back this second time is a result from all the facebook, twitter, and blog posts of people writing about how much they like it. So I am writing this post along with the other masses out their hopping Pepsi will see it and know that the public would like Throwback to stay as an alternitive to high fructose corn syrup shit drinks.
In the mean time I am stocking up!