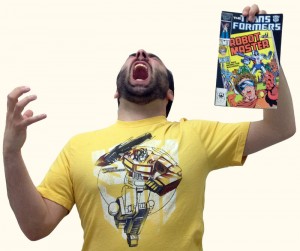 With Megaton on the loose trying to retake leadership of the Decepticons and a government plot to subdue the people amid rising fears of Transformers presents on earth comes issue 15, 'I, Robot-Master!'
The cover of issue 15 is a comic book cover on a comic book cover. The comic is black with a white and blue Transformers logo at the top. The cover depicts another comic on the cover called 'Robot Master' with Megatron, Bumblebee, Soundwave and several other Transformers in the background. At the bottom is the Robot Master himself, Donny Finkleberg. On the left side of the comic reads in bold black lettering "THE MAN BEHIND THE MACHINES!"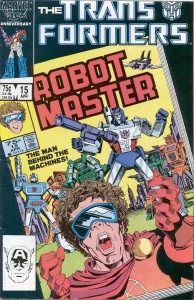 In this issue Megatron is scowering across the land looking for fuel. Eventually his body powers down in a Wyoming Coal mine like some great statue. His mind the only thing still functioning.
The Intelligence and Information Institute (I.I.I.) searches for a way to explain the Transformers tot he public that will be calming and prevent a wide spread panic. In a I.I.I.'s meeting to discuss options, G.B. Blackrock tries and fails to convince the governmental agency that the Autobots are earth's friends and the Decepticons are everyone's enemy. At the end of the agency's meeting everyone is sent home to come up with an explainable cover story and not to return without some ideas.
Walter Barnett, a Triple I agent trying to come up with a cover story finds one while flipping through a copy of his son's comic book, Robot-Master. Walter flies out to Marvel Comics' head quarters to meet Robot Master's Writer, Donny Finkleberg who has just lost his job. Walter takes Donny out to lunch where Walter discusses bringing Robot Master to life. Donny accepts the job offer.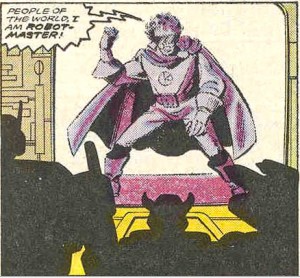 On TV the next day the whole country's Television programs are interrupted by Donny Finkleberg dressed up like Robot Master. He states that all the Transformers are under his control. The Autobots who see this  are confused and ask G.B Blackrock for help understanding what is going on.
The following day a second broadcast shot at the Wyoming Coal mine uses a disable Megatron for Robot Master's backdrop. This time the broadcast not only catches the attention of the Autobots but also the Decepticon, Soundwave. He goes out to find Megatron and refuel him. The Autobots know that Megatron could still pose a threat so they Transform and roll out. This is the first issue to have Optimus Prime actually utter the phrase "Transform and roll out".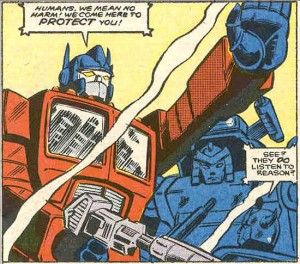 The Autobots arrive at the Wyoming coal mine, but the human military reacts negativity to their presence. They don't seem to understand the difference between Autobots and Decepticons. Soundwave, Laserbeak and Ravage arrive at the mine with fuel for Megatron. Once consumed he becomes active again. The four Decepticons start destroying everything around them and the Autobots are to damaged by the human military to help stop them. So, they retreat.
Megatron wants to kill the "Robot-Master" for claiming control over him during the TV broadcasts. But Donny Finkleberg convinces Megatron that continuing to tell the humans that the Autobots are as much of a threat to the them as the Decepticons on TV, the Autobots' effort might continue to be stopped. Finkleberg's life is spared for the time being.
No letters to Marvel in this issue.
ISSUE 15′s Ads