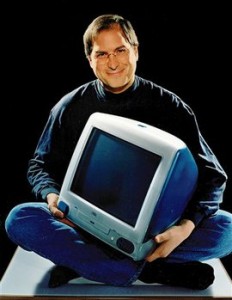 In 1997, I found myself, along with three very close friends of mine, huddled together looking at the glowing screen of an Apple Power Macintosh 5000 series computer in our high school graphic arts class. We where all very different from one another. Brought together because of our shared interests in computers and technology. That glowing computer screen held for me, the most earth shattering and amazing news I had ever read. Steve Jobs was returning to Apple as Interim CEO. The Co-founder of the greatest computer company to ever exist was back to lead the company he help start, and save it from what some where saying at the time was Apple Computer's last days.
I was really very fortunate to have such great friends like this in high school. While other people our age had their respective hobbies, my three friends and I spent our free time at each others respective houses geeking out at the latest technology news or fiddling with some new piece of hardware we got our hands on.  I have very fond memories of that time.
Steve Jobs's passing has really affecting me. Much more than I ever though it would. We all knew this day was coming. We all prepared ourselves mentally for it. I have thought long and hard about whether or not I would write a blog post about this. I almost didn't write anything at all. I didn't want to come off as too emotional. I thought I could just sit this one out quietly and wait for the moment to pass. But I can't.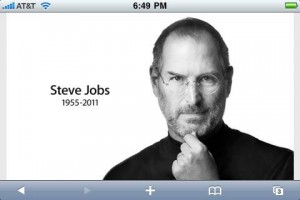 The news sites have been showing images of people grieving for a man most of them have never met. (I, however was lucky enough to have been in the same room as him.) Flowers and tokens of remembrance have been left outside of Apple's stores around the world and outside Steve's home in California. All these people have had a chance to grieve in one way or another. I have not.
Steve Jobs, Steve Wozniak, and Apple inc. have directly or indirectly forever changed the world we live in and the technology we use. For me that impact is a personal one. I have always admired Apple and the people who founded the company. From the time I could afford to buy my first computer I have always used Apple products. Steve Jobs was able to take the very ugly world of technology and make it beautiful. He was able to make it easy to use, and user-friendly, and in a world mired with technological chaos, he was able to make it user-friendly for people.
The thought of Steve Jobs no longer over seeing the company that I have grown to love and admire. The thought of the world no longer being able to benefit from his in site and influences leaves me weeping.
I have lost a man I have admired and looked up to all of my life. The world has lost a unique soul that wont soon be replaced.
All I have wanted to do since Steve Jobs passed is to call up my three good friends from high school and take them all out to dinner. I want to have an evening where I can sit down with them and talk about technology and the future just like we used to do in high school. And hopefully be reassured that even though we have all lost an important person in our lives, the fait of the company he help start will live on as faithfully as it ever has.