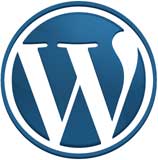 In my spare time I run a fan site called The H Corner for the Chicago Illinois based band "Local H". Not to long ago I got the itch to upgrade the site from it's static HTML pages to use WordPress as it's back end.
Until recently I used to maintain all of The H Corner's updates and maintenance with the text editor, Textmate. I personally enjoy building websites with a text editor. I fell like I have a higher level of control when building the a website like that. However maintaining a website (especially one like The H Corner that should be updated frequently with new content) with a text editor I learned is not the best idea ever unless it is your only job in life.
Installing wordpress was easy using the wordpress.org install guide. It gave me step by step instructions to setup a SQL database and get everything running. Less then a year ago I switched my personal website to wordpress and have not looked back. I have been very happy with it's performance.
Once I got wordpress setup and running I started with the task of importing all the content of the old site to the new one.
The whole process took less then a week. The hardest part might have been creating a theme that resembled more of the old h corner website. Themes are how you can quickly and easily change the look and feel of your website. You can find tons of themes on line with a simple Google search.
Check out the new H Corner at thehcorner.com and let me know what you think.