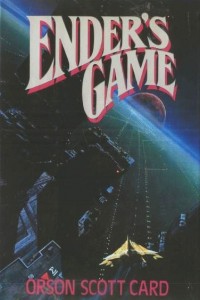 I just finished reading "Ender's Game".
Ender's Game (1985) is a science fiction novel by American author Orson Scott Card. The book originated as the novella "Ender's Game", published in the August 1977 issue of Analog Science Fiction and Fact. Elaborating on characters and plot lines depicted in the novel, Card later wrote additional books to form the Ender's Game series. Card released an updated version of Ender's Game in 1991, changing some political facts to accurately reflect the times.
I really enjoyed reading this book. The story keeps presenting you with twists and turns that you don't see coming. I am not a big fan of reading science fiction. Never have been. I have always preferred to watch it. Star Trek, FireFly, Red Planet, all great Science Fiction. But reading it has always been a difficult concept to me.  So I think it says something that this is a Science fiction book I could read. Not only read, but enjoyed a lot.
While writing this post I have been doing some reading ont he author Orson Scott Card. I have to say that I am not to impressed by the man himself. Sadly, this is affecting wether or not I will go on and read the sequel books.