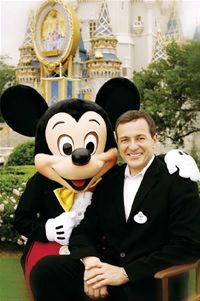 CNNMoney.com has a good news story on Disney's CEO Bob Iger and how he works. This news story peeked my interest because it fits in the whole Getting Things Done methodology that I'm really into. A methodology that has made me very productive at work.
Among other things Bob Iger says:
I get up at 4:30 in the morning, seven days a week, no matter where I am in the world. It's a time of day when I can be very productive without too much interruption. I ride a bike and use aerobic equipment twice a week, and work out with a trainer, lifting weights. It's a good time to think. I believe that exercise relieves stress and contributes to an improvement in stamina, which in a job like this you absolutely need.
You can read the full post here.