Occasionally I get ask to do some website work. It does not happen all that often, but I am happy to do it when it comes in. Recently I finished the redesign for North Sound Safety's offical website.
North Sound Safety is a motorcycle training company located in Washington state. They are professional at teaching riders young and old, beginner or seasoned, the importance of Motorcycle safety.
Their old website was very consistent with it's navigation. However, the pages (the homepage particularly) had a lot of stuff going on and could make it hard for the user to focus on what he or she was looking for.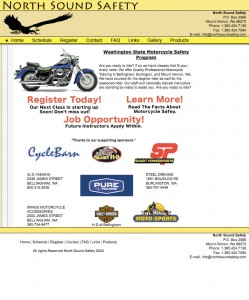 My first redesign design attempt was to just clean things up and tighten the over all look and feel of the website. I do most of my design work exclusively in PhotoShop.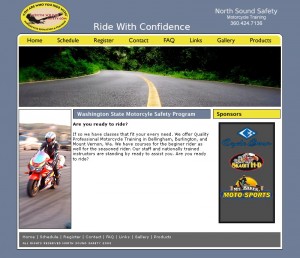 My client really liked the new look and feel of North Sound Safety's new design. He had a few changes he wanted made before I could go forward with writing out the HTML for the site. The finished product looks like this image below.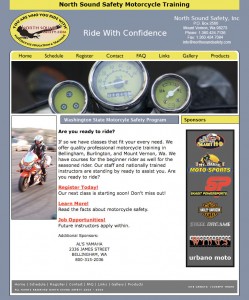 The final product incorperates Google Maps, as well as Flash. The whole top banner graphic is a Flash animation. I need to thank Jason for givng me some lessions in flash so i could create that rotating banner. The completed website can be viewed at www.NorthSoundSafety.com. Take a look around. Let me know what you think.