I set my alarm last night so I would wake up earlier then normal this morning. I had been hearing all day yesterday that we were expected to get five inches of snow during the night, and I wanted to be awake early enough to clear the snow off our vehicles so Hannah and I could get the work on time.
Well I got up and did just that. After a quick shower I strapped on my boots, grabbed my gloves and pulled a hat on over my head. Using a snow brush from my truck I cleared the piled up snow off of both of our vehicals. I then started my car and let it warm up and went back inside. I didn't start Hannah's because she hand a couple of hours before she had to be at work.
When I got inside the house I noticed all the lights where out and realized we were experiencing another Juneau power outage. I got a flash light out so Hannah and I could see our way around before calling some of the guys I work with to find out how bad the power outage was.
Twenty minutes later I was at work having left a little earlier then I normally do. My office was darker then normal because the power outage also affected our office. After about two hours all of our clients we service had power restored and I had my core group of guys going around helping bring up servers and implementing repairs where needed.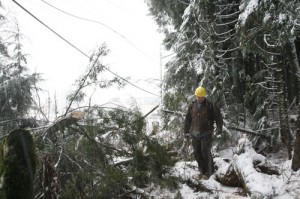 The Juneau Empire website reported the following about the power outage.
Trees fell on three different areas of power lines this morning, causing an area-wide power outage.

One tree fell on a line near the airport, one fell downtown and one fell in the Salmon Creek area, according to Alaska Electric Light & Power Co. spokeswoman Gayle Wood.

As of 10 a.m., power had been restored to the Mendenhall Valley, Wood, said, while crews were trying to remove the large tree that fell on transmission lines near the Salmon Creek area.

Wood said she expected power to be restored to all areas by 10:45 a.m., but power appeared restored in areas near downtown by 10:30 a.m.

AEL&P is Juneau's privately owned electric utility company that has 15,500 customers.