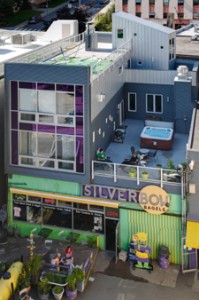 The band I drum for Fire On Mcginnis, has an opportunity to play a roof top gig above the Silver Bow in Juneau this Friday, July 1st. This last Sunday a couple of members of the band and myself headed over to the Silver Bow to check out the roof and to start figuring out the logistics of getting all our equipment up all the stair cases as well as how we where going to get power for all the amps.
My breath was taken away as I saw the view looking over the capital city. I snapped some pictures with my iPhone to share with everyone. If something happens with the weather or whatever that might prevent us from playing I am really glad I had the opportunity to see all this. I don't know how many people get to look out over roof tops and see what I saw, but it was beautiful.
The band and I now have a mental plan of how we are going to get everything setup and we will be spending the next couple of weeks working with the owner the business so we can make it all happen. Lets just hope the weather works with us. I can't imagine doing anything cooler right now than playing a roof top gig in downtown Juneau Alaska.