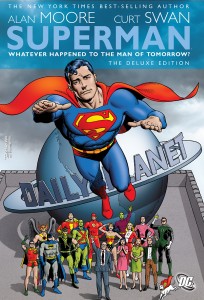 Not long ago I came across an NPR article about a special hardcover edition of "Superman: Whatever Happened to the Man of Tomorrow?"
In 1986, DC Comics decided that Superman's dense 48-year history had grown too confusing for new readers. Worse, his back story contained elements that seemed slightly twee in light of the tonal sea change that was beginning to take place in comics. It was the year of grim, violent books like Frank Miller's The Dark Knight Returns, which showed readers the superhero genre's sinister side.
Superman, on the other hand, had over the years featured such sunny conceits as Krypto the superdog, with his tiny red cape.
So DC cleaned house, rebooting the Superman franchise from scratch. Going forward, nothing would remain of what readers had come to know about the Man of Steel. Henceforth, he would be the lone survivor of Krypton — no dog, no cousin Supergirl, no shrunken Kryptonian city in a bottle, peopled by hundreds of thousands of microscopic (though similarly super) people. Gone, too, the Fortress of Solitude. Even archnemesis Lex Luthor would morph from mad scientist into billionaire businessman, trading his skintight purple getup for a crisp bespoke suit.
I also learned that the book was written by Alan Moore, who has written other comics such as the "WATCHMEN", "V For Vendetta", and "The League of Extraordinary Gentlemen". When I learned that Alan Moore had written "Whatever Happened To The Man Of Tomorrow" I had to pick up. Which I did and read it in one sitting.
I found "Superman: Whatever Happened to the Man of Tomorrow?" to be a very good ending to the original Superman story line and think anyone interested should read it. It really is good and worth the cost. The Deluxe Edition that I picked up also includes a couple of other Superman Comics written by Moore. "Superman: FOR THE MAN WHO HAS EVERYTHING" as well as another story between the man of tomorrow and Swampthing.