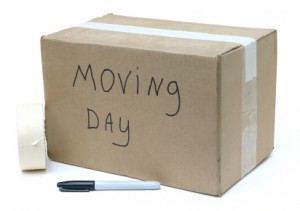 For the last couple of months, Hannah and I have been looking for a new apartment here in Juneau. The two of us have been talking for a while now about getting into a place that gets a little more sun light then our current basement apartment does. We were also recently told by our landlords that they are planning on selling the place we currently rent. So these two things combined have pushed us into high gear apartment hunting mode.
We spent over a month looking for a place. We followed up on newspaper ads, Cragslist postings, and just plain old word-of-mouth trying to find a new apartment. We saw several nice places both furnished and unfurnished.
At the suggestion of our friends, we eventually contacted a Realtor with Coldwell Banker Race Realty. After contacting the Realtor and letting her know what we were looking for, it only took her 24 hours to call us back to let us know she found the perfect place.
Our new apartmen is located 5 minutes from where both Hannah and I work. This is a huge plus for us. The apartment is unfurinished. This is kind of a negitive for us. Our old apartment was fully furinished. We don't own anything to fill up our appartment other then cloths and movies. The apartment is a two bedroom two bath, with a fire place, and water baseboard heading. It also comes with a heated garage, which will be great in the winter time for us. It also comes with a storage closet in the garage.
We get the keys to our new place on July 15th.  The wait is driving us both a little crazy, but it will be worth it because it such a nice place.