One big reason behind wanting to do this media center project was to reduce clutter. Having nearly five hundred DVDs take up a bit of space. Since I was going to be encoding all my DVD movies and TV shows and storing them digitally; what was I going to do with all the original DVD disks? I wanted to keep them. I knew that much. I just needed to come up with a better way to store them. I finally settled on a high capacity DVD Album.
DVD ORGANIZATION.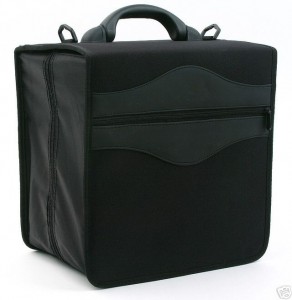 Thanks to some help from a friend I was pointed to Meritline.com. An online store where I could purchase a cheap 520 Capacity DVD Album. The DVD Album looked sturdy, so I ordered two of them. A lot of the DVDs I owned where spechal additions that contained two disks. I also know that my original count was off as to how many DVDs I owned because of the TV shows I had collected. I figured two of the 520 capacity DVD albums could hold 1040 DVDs. I not only would have enough from for my existing DVDs, but I would have plenty of room for growth in the future.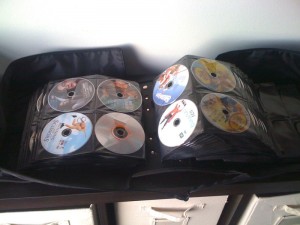 The DVD albums shipped and arrived in Juneau in less than a week. Once they got here I proceeded to take the pile of DVDs I had already encoded and start inserting them into the DVD album. When I was done I had freed up a lot of space that the DVDs where taking up and I did not hesitate to throw out the DVD cases they where in. I bought these DVDs for the movies on them and not for the cases they came in.
I have yet to quite fill up one whole album with DVDs. I am close though. I still have plenty of movies and TV shows to encode. When The first case is full I plan to store it under my bed.
DIGITAL FILE ORGANIZATION

As I encode movies on my Mac Mini I transfer them over to my Qnap Nas. I set up an alphabetical file structor inside two main categories ('Movies' and 'TV Shows') to save my encoded movies in.
Sometimes a movie that is encoded with Handbrake needs to be renamed. For whatever reason the file name is often wrong. It is important to make sure you name the encoded movie correctly because it will cut down on time you might have to spend on finding the correct movie meta data for which ever media center software you end up using.
(I will be talking more about media center software in a future post)
I would say that since I started this project I have encoded a little less than half the movies I own. This is a long process, but I can already see how it is going to pay off when I am done.