Two weeks of R&R has done both Hannah and I a world of good. Vacations are never long enough.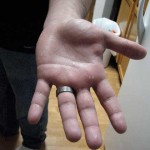 For the first part of our vacation Hannah's folks took us on several hikes around the Olympic National Park in Washington State. We even spent a night at the Sol Duc Hot Springs Resort where we hung out in the mineral hot springs and had a BBQ. The hot springs felt so good after the hikes we took. Your skin is so soft for days and water just beads off of you.
We made a visit to the Olympic Game Farm where we got to see all kinds of animals. I was told that most of the animals staying at the game farm are animals that had been rescued from owners who could not take care of them or have been retied from use in movies. Animals like the bear would wave at you as you drove by.
During our two week Vacation we spent several nights with my mom and brother on Guemes Island just outside of Anacortes. This was really special to me because a year ago my mom and brother bought back, and moved into the house my Grandparents built on the Island. I had not had the chance to visit them in the house since they moved in. So this was really a cool visit to for me.
We talked, had a BBQ, and took lots of photos. Below are just a few I took.