The Juneau summer this year was not the warmest or the sunniest I have ever experienced since moving to Alaska. They all can't be winners when you live in the middle of a rain forest.
As fall hits us with a shock the weather has turned cold and the air has become very dry. At the start of October people have had to start waking up earlier than normal to make sure their cars are defrosted and warmed up for the morning drive into work. Before the month was out we got our first real snow fall that dusted the landscape like sugar.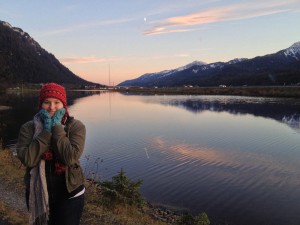 With all the recent cold weather, and the daily continuing loss of sunlight that comes with living this far north, we have had some bright spots too. Most notably is that during the daylight hours we do have they have been bright and sunny. Hannah and I have managed to go for some walks after work all bundled up and trying to soak up some of that natural vitamin D from the sun. We are lucky enough to live really close to a park with a lake, so its easy for us to walk out our front door and down to the lake where we walk the length of it and back.
October is also the month I was born in and Hannah put together a nice little party with some good friends. Some of which flew all the way in from southern Washington State. It turned out to be a great weekend that I don't think I am going to ever forget.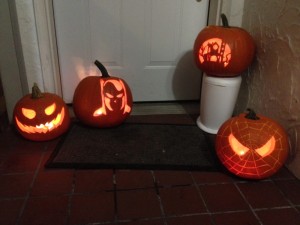 Halloween is also in October, so of course we carved out some pumpkins and turned them into some great looking Jack-o-lanterns. My brother Abe came over and the three of us took to work on four pumpkins. This is the second or third time since I have lived up here that I recall it snowing when we set our Jack-o-lanterns outside.