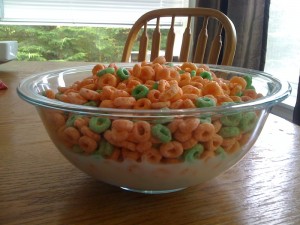 When I was a little boy and living in Gridley Kansas, I remember waking up Saturday mornings with my brothers to watch Saturday morning cartoons. My younger brother Abe, and I would get up and head into the kitchen and poor our selves a cereal bowl of whatever cereal we had in the house that week.
My older brother Reza would follow behind us by poring himself a bowl of cereal as well. But he never just poured himself a normal bowl of cereal. No, I remember Reza taking the breakfast cereal experience to the whole new level. He would get out a clear mixing bowl from the cupboard and emptying the remaining cereal from the box into the bowl. Then he would top it off by drowning the whole thing in more milk than my 8-year-old self at the time could ever imagine drinking.
Together, all three of us would all carefully make our way to the living room with our cereal, turn on the TV and watch saturday morning cartoons. Bugs Bunny, Tom & Jerry or some other cartoon program that was popular at the time.
Today is my diet cheat day. I have decided to revisit these fond memories of my past by poring myself a mixing bowl of cereal (Apple Jacks) and watching Tom & Jerry. I really hope everyone is having as awesome of a Saturday morning as I am.